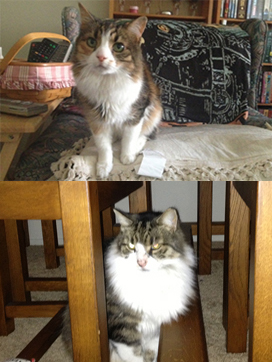 We have sister and brother Pets of the Month!
M & M love their catnip and have many toys that rotate in and out of their extra-large catnip jar. Mom keeps the fun coming with two cool cat sitting videos when she is at work. Muffin really gets into the videos and is still trying to catch a dove each time it appears. She has an uncanny sense of feeding time and will chirp to Mom when her 6 pm feeding time is near.
Mishka is a mellow fellow, unless he has been catnipping of course! He lets Muffin be the Alpha, and loves to use all of the scratching posts Mom has strategically placed around the house. He is not a fan of being brushed, but always struts his stuff after, showing off his beautiful white mane. He loves to watch the hummingbirds come to their feeders on the patio.