Welcome to Paw Prints Pet Care!
It is our desire to provide personalized pet care services to meet the needs of your beloved pets.
Our pet caregivers are bonded and insured, and will provide your pets with the love and attention they need while you are away. We can create a plan that works for your pet family.
Your pets will always be well cared for in our hands, and we are truly committed to this. When you entrust Paw Prints Pet Care with your pets you can absolutely have peace of mind.

Testimonials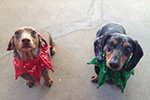 If you're looking for loving compassionate, competent and convenient care for your pet children, Paw Prints Pet Care should be your #1 choice. I've worked with JoEllen and the company for 6 months now and couldn't be more satisfied. They are professional, reliable, knowledgeable, careful and totally engaged with my pups...